Appointment scheduling and booking for COVID-19
Make testing for COVID-19 more accessible, improve service flow and save valuable health professionals' time, all with our streamlined online appointment scheduling and booking system.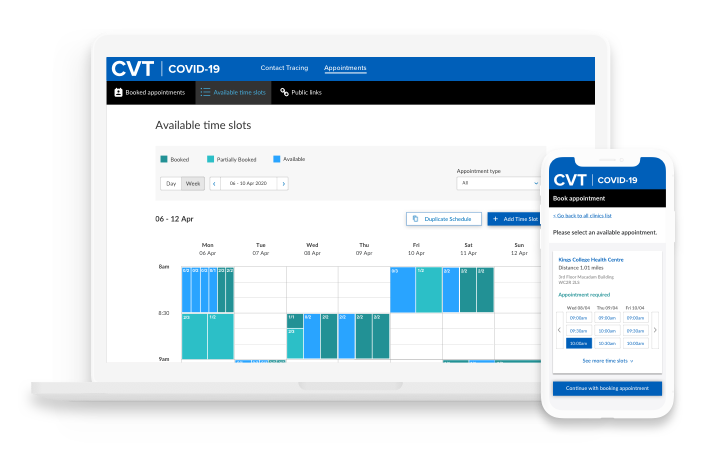 About COVID-19 appointment scheduling and booking software
CVT's appointment scheduling and booking system helps patients find and book drive-through and clinic appointments for COVID-19 testing or consultation, improving patient experience while removing the administrative burden and saving time for the health professionals.
It enables patients to book appointments digitally. They are referred to the appointments booking service through our COVID-19 Contact Tracing service or get triaged by answering questions powered by a decision tree.
Reduce the spread of COVID-19 by improving your testing rates with CVT appointment scheduling and booking software.
How does it help you?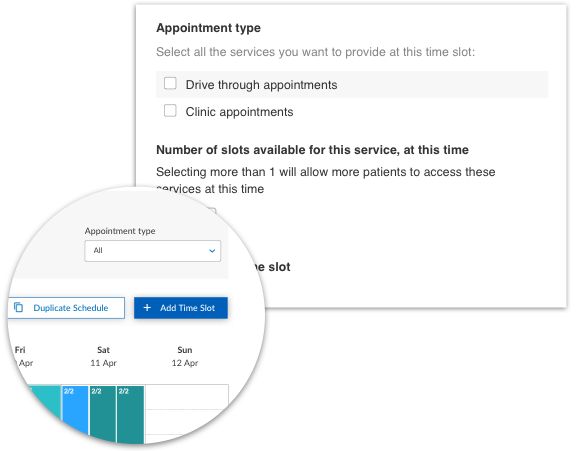 Custom appointment types to optimise your capacity
You can schedule different types of appointments, making the most out of your capacity and optimising your health professionals' time. Choose between antigen or antibody testing, consultation, follow-up, or similar customized appointment types to meet your unique needs. The system will triage the patients to ensure they book suitable appointments, depending on your needs.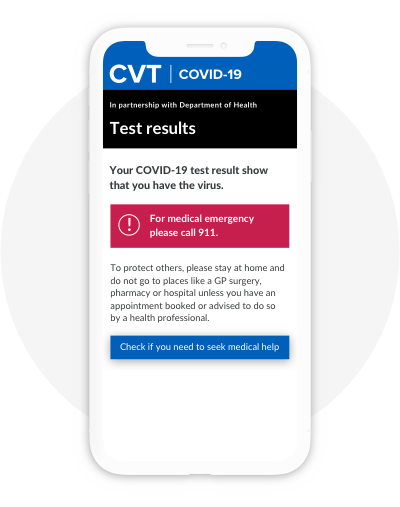 Result notification
Once the test results are received, the patient can also be notified via the system. If the results are positive, you may choose for the system to provide further guidance, initiate patient contact tracing or ask them to book a consultation.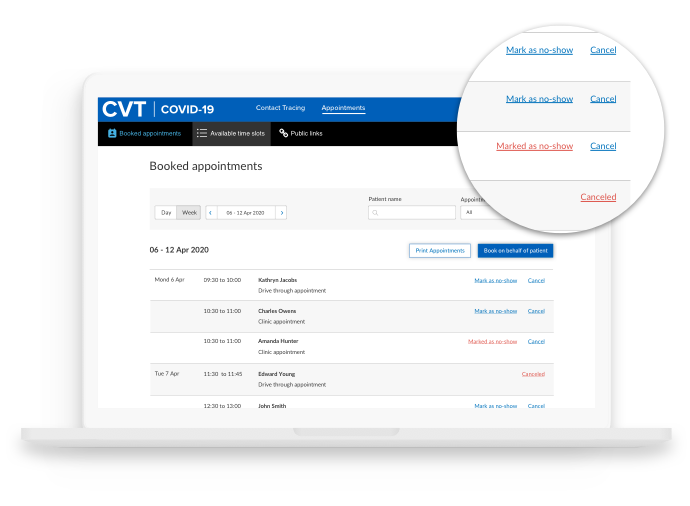 Reduce the number of no-shows with SMS notifications
Patients are automatically sent SMS messages and reminders that confirm appointment times with a link enabling them to cancel or reschedule if needed - reducing "no-show" rates. Also, if your capacity changes, you can easily cancel appointments and notify the patients who are already booked in.
Improved efficiency - saving time & costs

Patient self-service frees up staff time. The patient gets triaged to get the right type of appointment, fills in all essential information when booking an appointment, they or you can cancel or reschedule the appointment if needed, and finally receive results. All of this digitally, without having to speak with anyone, saving time and costs.

Helping you increase your testing rate for COVID-19

The system was designed to help you increase your testing rate for COVID-19 antigens and antibodies, tackling the outbreak more effectively, while reducing the amount of time health professionals need to spend in the related administrative tasks.

Customizable to suit your unique approach

As each country, state or authority might handle the COVID-19 pandemic slightly differently, you will get a dedicated installation of the software that can be customized to suit your approach to COVID-19 management.

Contact Tracing, Triaging and Appointment Booking Modules

The services were created with transmittable infections in mind and provide a seamless experience integrating contact tracing, triaging and appointment booking modules.

Data compliant

To reduce privacy risks, we only ask patients for essential information depending on your needs. We are GDPR compliant and registered with the Information Commissioner's Office.

Simple to use

Both clinics and patients find the system easy and convenient to use, thanks to our extensive user testing and optimisation.
How it works for your clinic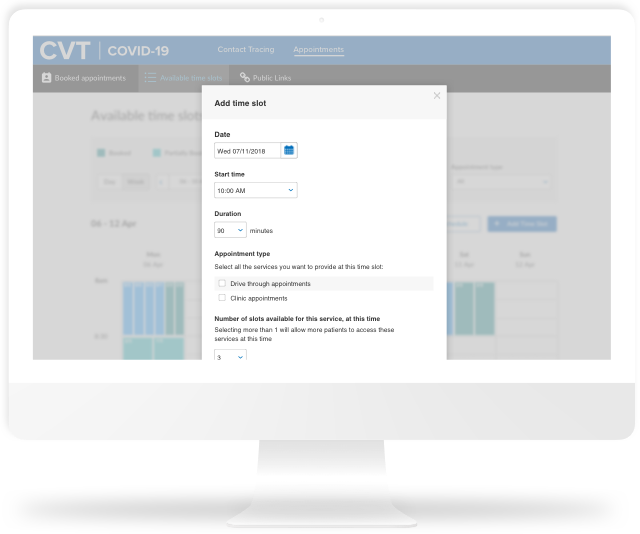 How it works for health professionals
Select the time slots you have available for your services from a calendar.
Select the services you can provide during the selected time slots.
Patients get triaged and can book suitable time slots at a clinic near them.
They fill in any information needed during the appointment booking process.
You can then see the list of booked appointments with patient details.
Once the results are received, you can notify the patient via the system.
You can also cancel appointments or mark them as 'no-show'.
How it works for patients
1. The patient receives a contact tracing link or visits the site.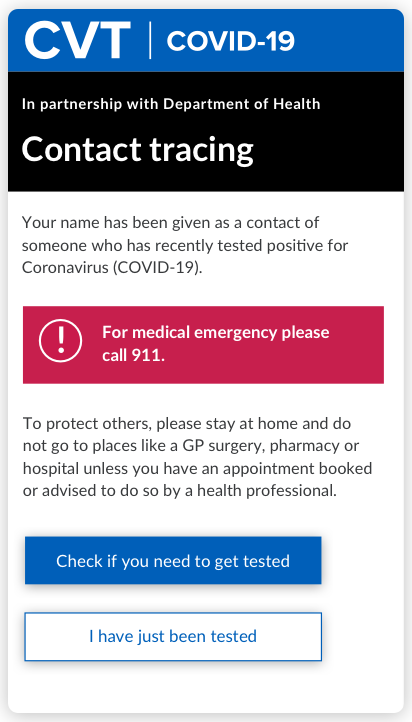 2. Answers questions to get triaged.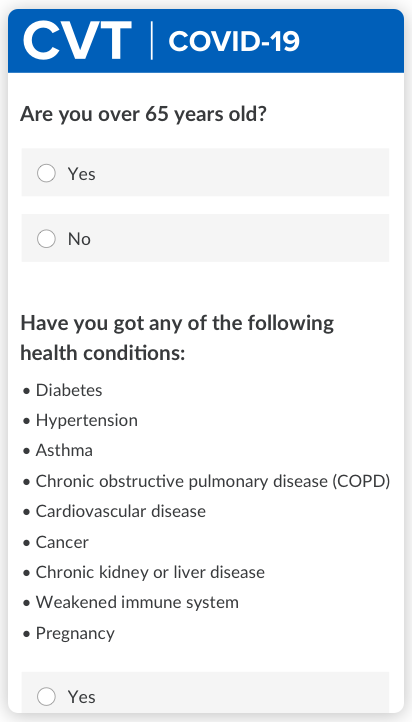 3. Sees nearby clinics offering relevant services with available time slots.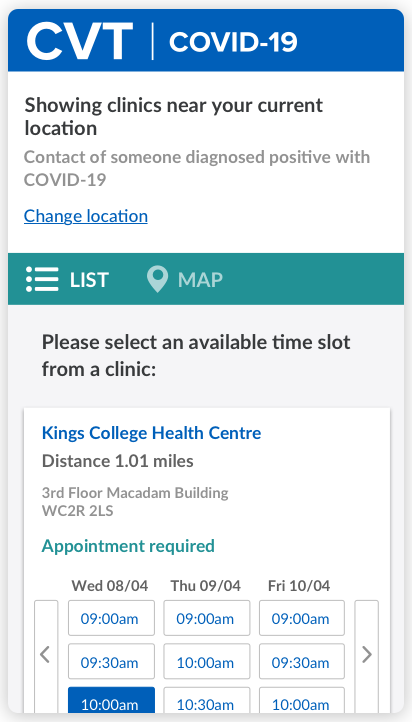 4. Selects a time, fills in the required information and books an appointment.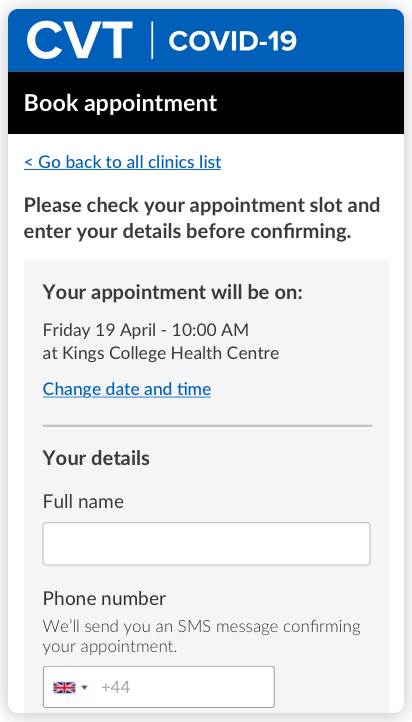 5. Receives results and guidance on what to do next.